About the Company
Slotica Casino is owned by Crown Games Co., Ltd. The company is based in Seoul, Korea. The casino has been around for several years. Over this period of time, it has managed to gain a great many fans who regularly play the slots it offers. There are around 600K people who are subscribed to Slotica's official fan page. This testifies to the superb quality of the products.
Other Platforms
Apart from playing at Slotica Casino on Facebook, you can download a mobile app. This is available in both App Store and Google Play. Thus, users of iOS and Android can enjoy Slotica games on the go with maximum convenience. The application is absolutely free and easy to use.
Games
Slot games on Facebook are quite abundant. However, it's not every game that can really impress the player. Slotica Casino offers more than 50 amazing titles to choose from. What's more, the library is regularly updated. The themes of slots available here are various. SoAvid fans of gambling are aware that there are some magnificent casino games on Facebook. Yet, how do you know which ones are really worth playing at? Of course, you can try each of them yourself and pick up the best. But it's much easier to read some reviews before starting to play at this or that casino. It concerns both online casinos (where you play for real money) and social ones (that are used for fun). To save your time, we make reviews of social casinos that are worth paying attention to. This time, we are going to discuss Slotica Casino. What games and bonuses does it offer? Let's find it out!, you are certain to find games that will appeal to your taste. The selection includes such prominent slots as Magnificent Coin, Gorilla King, Space Link, Great Buffalo. Slotica's games boast incredible graphic design and captivating gameplay.
Promotions & Rewards
All the top social casinos offer very beneficial bonuses and promos (take, for example, Clickfun Casino on Facebook). And Slotica Casino is not an exception. Players can take advantage of manifold promotions and rewards. These first of all include lots of free chips (coins). They can be obtained in a variety of ways. For example, using the function of Big Wheel Bonus (an analogue of the Wheel of Fortune) or Lucky Ball. Besides, there are marvelous Welcome and Daily Bonuses, Events, and other interesting things. Progressing through missions and levels also gives you extra rewards.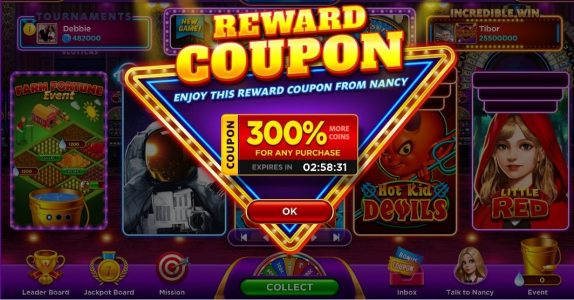 Chips Market
Aside from free chips for Slotica Casino, you are free to make use of in-app purchases. For this, click on Coupon Sale (it can also be marked as Buy and Deal) at the top of the application screen. You'll be offered a number of coupons with different values. For instance, you can buy 400,000 coins for $0.99. There are 5 regular options and 5 offerings for high rollers. The largest coupon allows you to have 550,000,000 coins for $499.99. Special deals are always available as well.
Pros & Cons
Now that we've checked the general features of Slotica Casino on Facebook, it's high time to single out its advantages and disadvantages.
Is Slotica Casino game legit?
Although gambling is prohibited in some countries, social casinos are meant for entertainment only. Therefore, they are not regarded as gambling venues, so there cannot be any legal issues when it comes to casinos on Facebook — they are legit by themselves.
How to get Free Chips (Coins) for Slotica Casino?
There are many ways to get free coins at this casino. So as not to miss any great updates, subscribe to Slotica's official page on Facebook.
What do I do if I have any problems with Slotica Casino?
Click on Talk to Nancy in the top right corner of the app. The support team will answer your questions as soon as possible.